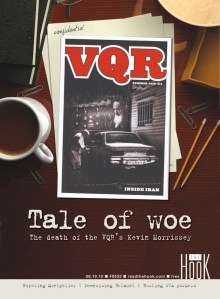 This week, Charlottesville's The Hook examines the Virginia Quarterly Review and the circumstances surrounding managing editor Kevin Morrissey's suicide last month:
A Hook investigation reveals that behind the staid, Thomas Jefferson-designed exterior of VQR's headquarters swirl allegations of financial recklessness, conflicts of interest, and a bizarre pattern of management-by-email that drove a staffer to quit. Some say there was also a pattern of bullying that may have pushed a fragile man into tragic oblivion.
Where The Chronicle of Higher Education's previous account focused on the personalities involved, The Hook also digs up some interesting particulars on the VQR's finances and operations. It's worth reading.