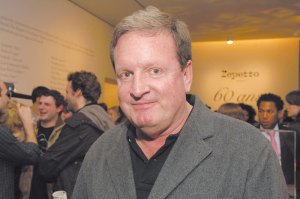 As business capitals go, Los Angeles is an oddity. There are few corporate headquarters here-after Disney, can you name one?-which makes a financier like Ron Burkle a quintessential L.A. power figure: peripatetic, elusive, canny and demonstrably rich.
He's invariably described as low-key and publicity shy, and articles about Mr. Burkle usually also mention his private 757, his $30 million Hollywood mansion and his political and social ties to P. Diddy and Leo DiCaprio.
To New Yorkers, Mr. Burkle is perhaps best known for his once-closeness to Bill Clinton and embroilment in the weird sagas of incarcerated Ann Hathaway ex, Raffaello Follieri, and Jared Paul Stern, the former Page Six reporter whom Mr. Burkle accused of trying to extort him.
But his Yucaipa Companies is a serious wheeler-dealer that has done some $30 billion in transactions, on behalf of pension funds that provide it with capital, on everything from buying and selling grocery chains to owning a piece of the Pittsburgh Penguins. In the past year, Mr. Burkle has circled Barneys and backed Harvey Weinstein's unsuccessful bid for Miramax. Now, he has a genuine East Coast-West Coast showdown on his hands with Barnes & Noble.
Like Mr. Burkle, B&N founder and chairman Leonard Riggio is a college dropout and a self-made man, and he is as singularly New York as Mr. Burkle is Hollywood. There is no evident mutual admiration between the two men, however, as Mr. Burkle has taken a big stake in the company-19 percent-and sued to be able to buy up to 37 percent, which would supersede the 30 percent Mr. Riggio owns. He has also threatened a proxy fight to put directors on B&N's board, and has legally challenged a "poison pill" defense the bookseller put in place. On the witness stand recently in a Delaware courtroom, Mr. Riggio described Mr. Burkle as having left a sour taste in his mouth over a business venture they pursued years ago, but claimed the present dispute was not personal. In Yucaipa's filings with the court, Mr. Burkle accused Mr. Riggio and his brother, Stephen, who until March was the company's CEO, of using the company as a "personal piggy bank," saying that the Riggios were involved in "self-dealing" when they sold a college bookshop operation they held separately to B&N last year.
On Aug. 4, Mr. Riggio effectively threw down a gauntlet by announcing that Barnes & Noble is for sale, and said that he is considering putting together an investment group to take the company private. Even after a bump in its stock price, its market capitalization is less than $900 million. In 2001, it was $2.2 billion. Over the same period, Amazon's market cap has gone from $3.6 billion to $57 billion. The advent of the eBook and the iPad and the Kindle have only served to spook investors further about B&N's prospects during a three-year period in which its profits have plummeted by $100 million, to $35 million.
What could Mr. Burkle do better than Mr. Riggio and the current B&N crew? Mr. Riggio claimed Mr. Burkle wanted to combine the company with Borders, its struggling rival, but Mr. Burkle denies this. A smarter move might be to sell the company to Amazon, or at least do a deal where Amazon (Jeff Bezos and antitrust watchdogs permitting) takes over its fast-growing but loss-making BN.com. This would be similar to the deal Microsoft struck to take over Internet search for Yahoo, where Mr. Burkle recently left the board of directors. But it would undoubtedly be anathema to Mr. Riggio, digital being the future and all.
In some ways, Mr. Riggio reminds me of Martha Stewart-hard-driving and self-serving, to be sure, but also someone who has built something distinctive and tangible and culture-shaping. If a Left Coast moneyman like Mr. Burkle wants to write the next chapter for Mr. Riggio's creation, he is going to have to pay up for it.
rsiklos@observer.com