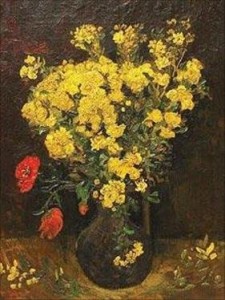 A $50 million Van Gogh vanished from the Khalil Museum in Cairo on Saturday. Well, it didn't magically disappear–it was helped out of the building by thieves and the fact that only 7 of the museum's 43 security cams were functioning at the time. That's bad enough, but it's not the first time this year that valuable art has fallen prey to thieves working in tandem with lax security. When several works by Picasso and Matisse were taken from the Paris Museum of Modern Art last May, they were also helped out the door by malfunctioning security–in that case, a disabled alarm system.
Former Scotland yard detective Charles Hill described both situations to the BBC as "wearying" and asked, "why don't directors of museums and the boards of trustees take security more seriously?" Cairo and Paris, said Hill, were "two prime examples of people being indifferent to the need to protect their paintings."
Egyptian authorities seem to agree. First undersecretary at the Culture Ministry Mohsen Shaalan and a handful of other officials have been accused of "failing to carry out their employment duties" and negligence. Mohsen has been detained for 4 days while authorities investigate.
It isn't clear that the Van Gogh–"Poppy Flowers," stolen in the 70s and missing until its recovery in the late 1980s in Kuwait–has been recovered; Egyptian officials said this weekend that they'd detained an Italian couple who had the painting in their possession, but they later changed their tune. The Italians may have been the victims of coincidence and unlucky taste in poster prints.
[BBC, ABC/Reuters]