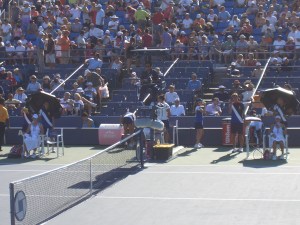 Sam Stosur is currently playing the Russian Elena Vesnina in roughly 167 degree temperatures at Louis Armstrong, but what's worse than the heat?
Lacoste dressed them in the same outfit! (See photo). Here's a link to Stosur's blog where she asks readers what that they think about "My new Lacoste outfit." Looks like Lacoste is handing that one out to just about anybody, including a player who has a losing record for the year.
Stosur, the no. 5 player in the world, dropped the first set, but, really, who can fault her? Who wouldn't be distracted?