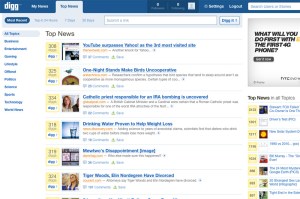 The San Francisco-based aggregation site Digg debuted its hotly anticipated new design today. First impression: it looks a lot like the old Digg, though with an added dash of Facebook.
There are a handful of aesthetic changes that make the whole thing seem very blue. The main difference is that logged-in visitors to "Digg.com" are immediately taken to a "My News" section. This seems to work like a hybrid of the Twitter and Facebook-style feeds that offer you news items from only your most trusted strangers. Users who aren't registered with the site are taken to a more general "Top News" feed, reminiscent of the old site. Right now that contains a list of reasons why Kanye West is a douchebag and something about Pokémon, so content-wise it seems to be about the same.
Digg maintains its aggregation edge by frequently shifting its algorithm, so it's a safe bet that the new design also comes with a new algorithm, especially given the recent discovery of right-wingers trying to manipulate the site for nefarious purposes.