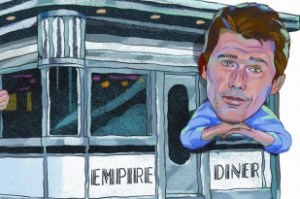 The Empire Diner — eulogized by Leon Neyfakh when it closed back in May — will be re-opening in September, sources tell Eater. Of course, under new leadership (the people behind Coffee Shop), it will be a different sort of place. The new restaurant will offer "American food, with a more upscale focus and price point to match," the sources say.
Eater deems this "a good plan"; we think it seems kind of dull compared an institution that made blog posts like this:
Come to us, Pilgrim, and take sustenance for Body and Soul on this day of Leave Taking and Goodbyes.