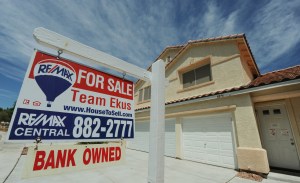 Anyone who needed convincing that the economy is on the rails should've tried selling a house last month. In July, sales of gently-used single-family homes in the U.S. plummeted to a 15-year low, according to the National Association of Realtors. Existing-home sales came in at an annualized rate of 3.8 million. The slowdown was worse than Wall Street had expected; per Briefing.com, analysts were expecting 4.7 million houses to sell. The NAR also reported that its June sales figure was worse than initially thought, revising that number downward to 5.3 million from 5.4 million.
The number of houses still sitting on the shelf waiting for buyers rose 2.5% to 4 million. At the current rate, it would take 12 and a half years to get rid of the housing glut.
Chief NAR economist Lawrence Yun, said that the May expiration of a tax credit for homebuyers had impacted the market, and he expects the housing drudgery to continue into September.
Despite the apparent stagnation, the average price of an American home ticked up 0.7% year over year to $182,600. Distressed home sales accounted for 32% of transactions in July, the same amount as in June.
"Mortgage interest rates are at record lows, home prices have firmed and there is good selection of property in most areas, so buyers with good jobs and favorable credit ratings find themselves in a fortunate position," said Vicki Cox Golder. That's the kind of thing one might expect the president of the National Association of Realtors to say, though, so maybe don't break out the checkbook just yet.