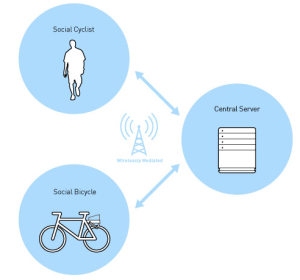 Between the pedestrian malls and fancy sandwich shops, the signs are unmistakable. New York City is going Euro.
A bike-sharing program has seemed all but inevitable, and here it comes. This fall, a New York-based company called SoBi will try its hand at the type of program popularized by France's über-successful Vélib', Milan's trendy BikeMi and Copenhagen's unpronounceable Bycykler København.
Though typical bike-sharing programs usually require participants to visit an actual docking station, the SoBi program will make use of GPS, mobile devices and secure lockboxes that will let riders share bikes parked at any bike rack in the city. Each lockbox carries a price tag of about $500 per bike — far less than the $3,000 to $4,000 it usually takes to start the traditional cooperative programs (so says Wired). With the lockbox, as opposed to the typical docking station, expectant riders will be able to reserve a bike remotely on the company's website using a cell phone or other mobile device. SoBi — short for "social biking" — will then use the GPS system mounted on each bike to provide a map showing all the available bikes in the area. All a rider has to do is walk up to the lonely bike, type in an access code and —voilà — the lock box unlocks, and the rider bikes off into the enviro-friendly sunset.
The program should be a hit given the relative lack of competition, but don't expect to spot fleets of the bikes racing down Broadway anytime soon. The company intends to introduce the program with a scant 20-bike fleet, which doesn't seem like enough for a city of eight million, especially compared to the Vélib fleet of 20,000. (You thought finding a cab was tough?) Riders will want to bring along their own helmets, and maybe a bottle of Purell.