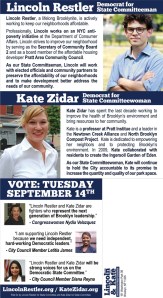 Congresswoman Nydia Velazquez is endorsing three candidates for state committee spots in Brooklyn who are running against candidates backed by the local Democratic establishment.
The three are Lincoln Restler, Katie Zidar, and Esteban Duran.
"I am humbled and honored to have the support of Brooklyn's most beloved elected official," said Restler. "Congresswoman Velazquez is a progressive lion, who is a fiercely independent and devoted advocate for Brooklyn."
The move does not come as too much of a surprise, since Velazquez has been a longtime adversary of Vito Lopez, the Kings County Democratic Chairman, and all three are running to oust Lopez as chairman and reform the county party.
Duran, who is running against Lopez, won a spot on the ballot after spending most of the week in court fending off efforts by Lopez to knock him off the ballot.
This also goes to show what we have been saying all along–that some of the fiercest battles this election season will involve the way-down ballot district leader fights in Brooklyn.
Read the full-release here:
BROOKLYN, NY – Today, Congresswoman Nydia Velazquez welcomes a new era of progressive leadership in announcing her enthusiastic support of Lincoln Restler and Kate Zidar's insurgent campaigns for Democratic State Committee in the 50th Assembly District.

"Lincoln Restler is a fighter who represents the next generation of Brooklyn leadership. I commend his commitment to social justice and enthusiastically endorse Lincoln Restler for Democratic State Committee," said Congresswoman Velazquez.

The Congresswoman also praised Kate's dedication to the community, saying, "Kate Zidar has a deep understanding of the environmental issues facing our neighborhoods. She will be a smart, innovative and effective advocate on the State Committee."

"I am humbled and honored to have the support of Brooklyn's most beloved elected official," said Restler. "Congresswoman Velazquez is a progressive lion, who is a fiercely independent and devoted advocate for Brooklyn. I look forward to working with her to increase transparency, accountability, and participation in our local Democratic Party."

Lincoln Restler's grassroots campaign for State Committeeman in the 50th AD has garnered unprecedented support; Restler out-raised his opponent 3 to 1, bringing in over $55,000 to date, and has picked up a diverse array of endorsements: NYC Council Members Letitia James; Diana Reyna; Jumaane Williams; State Committeepersons Jo Anne Simon; Alan Fleishman, Joanne Seminara; Lambda Independent Democrats of Brooklyn; New Kings Democrats.

Described by the Daily News' Errol Louis as part of the "young insurgent candidates" of the Obama Generation, Lincoln Restler is running for State Committeeman (also known as District Leader) to clean up the borough's Democratic party, which has seen three of the past four party bosses indicted on corruption charges. Born and raised in Brooklyn, Lincoln is a strong neighborhood advocate, active across the 50th AD as an elected officer of Community Board 2, a board member of the Pratt Area Community Council, the Fort Greene Association, and Brooklyn for Peace. Lincoln is also a founding member of Brooklyn Vanguard – a group focused on increasing engagement and support of the Brooklyn Public Library. As a Program Officer at an anti-poverty initiative at the NYC Department of Consumer Affairs, Lincoln develops basic bank accounts for moderate income New Yorkers. Lincoln will bring his expertise and commitment to his native borough to fight for more open space, affordable housing, and transparency in Democratic Party operations.

Kate Zidar is an Environmental Planner and community advocate who is running for State Committee to give her neighbors a real voice within the local Democratic Party. In addition to being a professor at Pratt Institute, a board member of the Newtown Creek Alliance, and the founder of the North Brooklyn Compost Project, Kate works with the New York City Housing Authority (NYCHA) to advocate for green infrastructure opportunities within the agency, and to design, build and maintain gardens and an urban ecology curriculum in collaboration with public housing youth, residents and staff. Professionally, Kate coordinates the Stormwater Infrastructure Matters (S.W.I.M.) Coalition, a citywide organization of public, private and non-profit partners dedicated to ensuring swimmable, fishable waters around New York City. Kate believes that true sustainability comes through community empowerment, good governance and long-view investment, and looks forward to applying those principals in her work with the Brooklyn Democratic Party.

For more information on Lincoln and Kate's candidacies, please visit LincolnRestler.org and KateZidar.org.