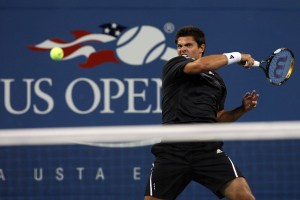 There's nothing like the chaos of the Billie Jean King Tennis Center for the first few days. Take advantage of it because before you know it, whooosh, all the matches are on Ashe. So if you're planning on coming out, get a seat on Court 11 or the Grandstand when those courts are full of electricity.
Here are a few matches I'll have my eye on today.
Good Bargains:
Daniela Hantuchova vs. Dinara Safina, early afternoon, Armstrong: A year ago, this could have been a semifinal. Last year, Safina wore the no. 1 ranking and it wore her down. This year she's been hurt. Hantuchova isn't quite the same player, either. There's a good chance we'll get a solid, 3-set opening day match here.
Ana Ivanovic vs. Ekaterina Makarova, early evening, Grandstand: There was a time when Ana ivanovic was being treated to fancy dinners by Robert De Niro and Grace Hightower (and gracing the cover of the Observer). Last year, she was dropped in the first round, and the one time Grand Slam winner has been dreadful ever since. Now, she's relegated to a match on the Open's third best court. She's shown some signs of life this year, and either way, with her forehand, she can be a fun player to watch if she gets on a roll. It's a good bargain for the Grandstand.
Americans:
Lots of American players to keep your eye on today. There are some folks we know, and some we don't. Some of these matches have the chance to be very competitive, particularly if the crowd can will some of these players on.
Melanie Oudin vs. Olga Savchuk, 11am, Ashe: This is Oudin's first match since her amazing run last year. The only problem is Oudin hasn't capitalized–at all–on her success from last year, and has a losing record this year. It'll be interesting to see if she can handle the big stage. There's a possibility (considering where her confidence is) that she could have an early upset if she loses control. If she holds her own against the qualifier Savhuck then at least you can see you saw Oudin play this year before the inevitable burnout at the Open.
Nikolay Davydenko vs. Michael Russell, 11am, Armstrong: Russell is a 33-year-old journeyman playing one tough Russian. Close your eyes and pretend it's the 80s!
Gael Monfils vs. Robert Kendrick, early afternoon, Court 11: Gael Monfils, the Frenchman, is either so good or so bad. Kendrick is a gritty 30-year-old who will have a loud crowd behind him. Check this one out.
Ricardas Berankis vs. Ryan Sweeting, mid-afternoon, Court 4: Sweeting is a 23-year-old American who beat James Blake a few weeks ago.
Stephane Robert vs. Andy Roddick, late afternoon, Ashe: We can already hear some enlightened fans screaming, Hey Stephanie, take it easy on Andy!
Taylor Dent vs. Alejandro Falla, late afternoon, Grandstand: Taylor Dent was a local hero last year. The guy is old and (speaking of the 80s) he likes to serve-and-volley! He's a fun guy to watch and they picked the perfect stadium (read: Loud) for him to play in. Falla, the favorite, is also a spirited and great player to watch. This could be a good one.
Tim Smyczek vs. Thomaz Bellucci, late afternoon, Court 11: What's not to love about the young American Tim Smyczek? He's 5'8 and maybe 130 pounds! He'll go against a ranked Brazilian.
Irina Falconi vs. Flavia Pennetta, early evening, Court 11: Those screams you here as you leave the Andy Roddick match at around 6pm are coming from Court 11 and they are for New York native Irina Falconi who plays the Italian Flavia Pennetta. Falconi is a qualifier and from Inwood Park way up in Manhattan. Go root for her!