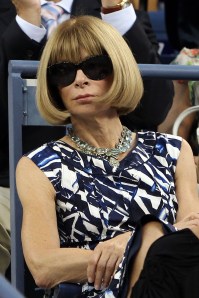 Lleyton Hewitt, the 2001 U.S. Open champion and ex-fiance to Kim Clijsters, lost in the opening round last night in a five-set match to the Frenchman Paul-Henri Mathieu. It finishes a rough Grand Slam year for Hewitt who did no better than the fourth round at a Slam. Time to think about retirement?
Ana Ivanovic, who was knocked out of the first round herself last year, came back strongly last night winning in straight sets. She told the press last night that she's confident again, but we've heard that refrain before.
In the featured matches, Venus Williams and Roger Federer both cruised to a straight set victories. Venus said her knee held up OK in the match, but we'll see what happens when she's better tested.
Oh, yes, and also: Anna Wintour told ESPN that Roger Federer does reach out to her to ask for fashion advice.
FOR COMPLETE OBSERVER U.S. OPEN COVERAGE: http://observer.com/usopen and http://twitter.com/koblin