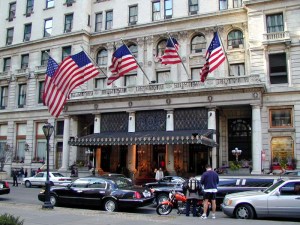 Both Bill Perkins and Basil Smikle, who are currently running against one another for a state Senate seat in Harlem. will be attending Charlie Rangel's birthday fundraiser tonight at the Plaza Hotel, both campaigns have confirmed.
This is not a huge surprise. Rangel remains overwhelmingly popular in Central Harlem, where the 30th State Senate district is located, and there is little upside in angering the neighborhood's biggest political powerbroker. Plus, for years the great political parlor game in Harlem has been who becomes Rangel's chosen successor when the day finally comes that he decides to step aside. Sources in the neighborhood have said all the political players there have been furiously collecting signatures for Rangel this year, anticipating that they do not have much time left to get on the longtime congressman's good side.
The race for the state Senate seat has been quiet for a bit now as attention has focused on Rangel and his troubles. The Perkins campaign has been rolling out endorsements at a steady clip, including the 504 Democratic Club, the League of Conservation Voters, and the Freelancer's Union. Supporters of Perkins, who is a two term incumbent, have noted that despite some early fundraising success from Smikle, the page on his website for endorsements remains blank.
Smikle said he expects to announce some endorsements from individuals and from labor unions in the coming days.
"I've said from the beginning he is going to get the lion's share of endorsements," Smikle said. "I am not going to get into an endorsement war with an incumbent."