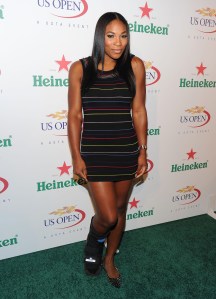 One storyline for this year's U.S. Open: A lot of former Grand Slam champions aren't here.
Here's who's missing:
Serena Williams: There will be no meltdowns this year. No one knows quite what went wrong with her foot. Harvey Aaraton at the Times is dubious. Venus Williams won't say a word about what's wrong. Depending on what version you believe, Serena either cut her foot on glass, or or she hurt the top of her foot. Nevertheless, she has still been showing up to Open parties, hanging out in the Hamptons with Jason Binn, meeting Mark Sanchez, posing for photos and moonlighting as a manicurist in Vogue. Either way, that means we won't get the 2008 Champ back, and the only player who has provided stability to the women's tour. It's disappointing.

Justine Henin: Henin's comeback story hasn't been as giddy as Kim Clijsters'. Henin has struggled since returning to tennis this year. The 2007 Open champ will not be around this year due to an elbow injury, and we're disappointed. Even if she was a little afraid of night matches.

Juan Martin del Potro: This one is especially disappointing because a wrist injury has marred almost the entire season for del Potro. After his remarkable ascent at last year's Open, he's only played at the Australian.
Tommy Haas: The German is rarely a threat, but we're most disappointed because, well, no Sara Foster.