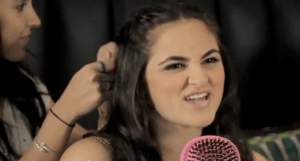 Emma Lasry, the daughter of billionaire hedge fund manager Marc Lasry, is "definitely a name you will be hearing more from in the coming years," according to the liner notes of her debut music video. The YouTube gem, "Closet Bitch," has been online since June 2. Star has been talking about Ms. Lasry since then, but Wall Street took notice today after the Journal interviewed her father, the Avenue Capital Group founder, and a YouTube star in his own right.
"It wouldn't be my first choice for a title," Mr. Lasry said. "But the song is really good. It's a catchy tune."
So catchy, in fact, that Khloe Kardashian makes a brief appearance in the video, which as of this writing has 8,725 views. "She's so amazing, and we really got to know each other well," Ms. Lasry told Star about Ms. Kardashian. "She really adds a lot to the video and is so friendly."
Ms. Lasry spends much of the video singing into a hairbrush, flipping her hair around and zipping and unzipping her leather vest. Here's what she sings: "Everybody thinks I'm so sweet/ I'm the girl that you love to meet/ Boys want to take me out to eat/ But little do they know I'm a closet bitch."
Later she switches to what aficionados would call an ABAB rhyme scheme: "You'll probably see me smiling/ One of the things that I do best/ I don't get violent/ But I got a right hook if you wanna mess."
The drama really unfolds at the bridge: "Somebody opened up the closet/ They looking at me like, oh, she lost it/ Here she goes again/ Run and tell your friends/ Watch out, I'm a B.I.T.C.H." Tendency to spell out words is a sign of future pop success.