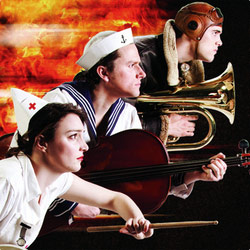 A interpretation of Ovid's Metamorphoses set in WWII-era England won the Carol Tambor Best of Edinburgh Award at the closing ceremonies of the Edinburgh Fringe Festival today.
The production, which involves live performance, video and puppets, will now be coming to TriBeCa's Flea Theater in January. It's staged by the Pants on Fire theater company, which said in a Twitter message one hour ago: "after a cheeky glass of champagne and some theatre we're still buzzing :)"
The Guardian called the show "a breakthrough." Io becomes a cow wearing a gas mask, a Gestapo interrogator stands in for a Gorgon and the sirens, well, you can probably guess what those are.