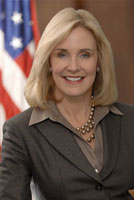 Assemblymember Jane Corwin, a freshman legislator who doubles as the state party's treasurer, is officially backing Carl Paladino for governor.
"Not only do we share similar views on most all state issues, I am absolutely confident that Carl has the resolve to confront the entrenched Albany special interests and lead-the-way towards fiscal stability," Corwin said in a statement emailed to reporters.
The endorsement is in keeping with a move by Western New York's political establishment towards the Buffalo developer's outsider candidacy. A slew of Niagara County's Republican leaders–including current chairman Mike Norris, former chairman, Henry Wojtaszek, and state Senator George Maziarz–endorsed Paladino this morning.
Corwin, who defended Erie County Executive Chris Collins during his short-lived candidacy, made sure to note the geographical connection in her statement:
"For too long, statewide candidates have alleged to understand Western New York's problems and how to attack them. Yet, we now know that rebuilding our local economy requires electing a genuine Western New Yorker like Carl Paladino as the Chief Executive of New York State."
While Chairman Ed Cox–who publicly backed Steve Levy at the Republican convention–has been quiet on Paladino's western front, a spokesman for the state party said it continues to support the official Republican designee, Rick Lazio.
"These are minor endorsements and we continue to believe that Rick will come away with a victory here in September,"said state party spokesman Alex Carey, who cited the "regional considerations" at work. "Assemblymember Corwin has a right to personally endorse somebody, but it's not indicative of any sort of split."
"Rick Lazio is the designated candidate so the party continues to support Rick," Carey added. "We believe he's the stronger of the two and has a better chance of defeating Andrew Cuomo. He's had a big last couple weeks in terms of ramping up the fundraising efforts, and messaging on the mosque and other items."