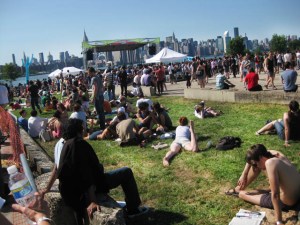 Can't we all just get along?
A payment dispute between concert organizer Jelly NYC and the Open Space Alliance for North Brooklyn, which helps operate East River State Park for the state parks department, may doom the popular concert series on the Williamsburg waterfront.
Says the New York Times:
On Tuesday the Open Space Alliance for North Brooklyn, a nonprofit group that works with the state parks department to manage the concerts, announced that it was canceling the last Pool Parties show of the season, on Aug. 29, because the series's promoter,Jelly NYC, has not paid its bills. The size of the debt was not specified, but in a statement the alliance said that dealing with Jelly NYC — a small company in Brooklyn that puts on concerts and parties year-round — was distracting it from its duties running the parks.
Silver lining: at least the concert season is almost over. If the dispute remains unresolved, only two concerts will be cancelled: Chromeo on August 22 and Delorean on August 29.
More here.