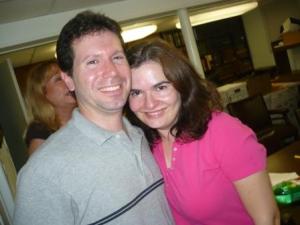 Still to have his day in court, Mayor Anthony Suarez is calling it tonight: Victory. Unofficial tallies show the people of Ridgefield re-confirmed in a public recall referendum that Suarez is their mayor.
Battling back from an absentee ballot deficit, Suarez pulled ahead and won with roughly a 30-40 vote margin, topping 1,000 votes against recall and just under 1,000 in favor.
Huddled in the side-street office of Democratic Chairman Stephen Pellino, the small group erupted in cheers around 8:25 when final tallies came in.
"I can't wait to see Warren Vincentz' face tomorrow in the paper," one man shouted, smacking a sour puss all over his face and throwing his arms out in dispair.
Vindication surrounds Suarez, with his Cheshire grin, as he makes for a round of hugs and thanks before heading to the real celebration.