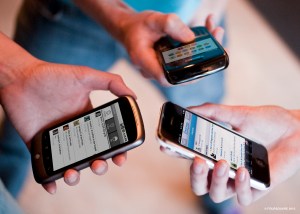 Foursquare may have found its toughest competition yet in Facebook Places, but for now it's gunning for a very specific market: testing centers for sexually transmitted diseases. In a joint effort with MTV's "GYT: Get Yourself Tested" campaign, the location-based social networking service will be rewarding those who check in to a testing center with one of it cherished badges, the AP reports. Unlike many of the hard-to-get badges in the Foursquare world, the GYT Badge will only require a single check in.
Stephen Friedman, a general manager at MTV, says by airing a trip to the testing center to friends on Foursquare, users can help rid the STD testing process of its "stigma," and encourage others to get tested as well.
Foursquare uses the badge system to incentivize constant check-ins at new and familiar locations by awarding them to users who visit a variety of particular spots. But Get Yourself Tested—a badge promoting a social cause—is a step in a different direction for the service. Current badges include the Far Far Away badge ("Welcome to the world above 59th Street!"), the Photogenic badge ("You found 3 places with a photobooth!") and the Player Please badge ("Look at you, checking-in with 3 members of the opposite sex! Player, please!").
Those hesitant to sign up for Foursquare, however, may not buy into the idea. Recent press on the comparison between Foursquare and the new Facebook Places has noted that both services can be a breach of privacy by sharing personal location. If such non-believers refuse to reveal which bars and restaurants they frequent, chances are they wouldn't let the world in on their medical testing habits.