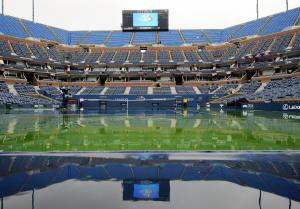 Uh oh. Just when the forecast looked gorgeous–if hot–for the next few days, Hurricane Earl is popping up on the forecast and it'll be interesting to see how/if it wrecks play. So far, we're expecting rain and lots of it, by around Friday.
For the last two years, the Open schedule has been a mess the final weekend thanks to rain. The men's final, for the first time in the Open era, has been moved to late Monday afternoon each of the last two years.
The good news is if Earl affects play this weekend, there's a week left to straighten the schedule out in time for Super Saturday and the Men's Final.
But this is going to bring up that annual storyline from Queens–what about building a roof on top of Ashe?
The folks at the USTA have never been interested in a roof. Last year, when rain knocked out practically two days of play, Open officials said they could put a roof on top of Ashe, but added that the $100 million-plus price tag really discouraged them, especially considering it would be used only a couple of times a year.
Frankly, we like it better here without the roof (who needs it? and it never rains that much in New York at this time of year anyway), and that explanation makes total sense to us. But we say that now before what could happen on Friday.
In any event, when rain happens, well we like to cover it.
FOR COMPLETE OBSERVER U.S. OPEN COVERAGE: http://observer.com/usopen and http://twitter.com/koblin