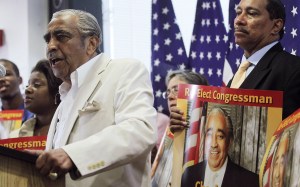 When Charlie Rangel was asked at his campaign kickoff is he planned to debate his primary opponents, he said he was "available," even as he said, "There is no question in my mind that there are people that can more than adequately represent this great diversified district. The problem is none of them are running in this race."
Now, Rangel primary opponent Jonathan Tasini is calling on the longtime congressman to accept an invitation to appear at a League of Women Voters forum next Thursday.
"Debates are important part of democracy and votes should have a chance to hear us," Tasini said. "Charlie Rangel needs to answer questions, he needs to come before the public and he should not run and hide."
Rangel campaign manager Bob Liff however said that campaign had not yet decided which debates and forums the congressman would attend.
"We are discussing it. We have had a number of requests, a number of invitations, and we are trying to figure out what we will be doing."
He added, "The bottom line of this election is that it's between Charlie Rangel and Charlie Rangel."
Tasini obviously disagrees, and continue to make the case that Rangel will be an albatross around the necks of Democrats across the nation.
"The spectacle of him on the House floor, I think Democratic operatives everywhere were just appalled," he said. "When Democrats were trying to defend unemployment benefits, Charlie was on the floor defending himself."
Rangel could not be reached for comment. He is soon to take off for Illinois to attend the funeral services of former House Ways and Means chairman Dan Rostenkowski.