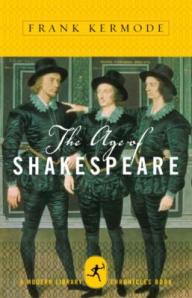 Frank Kermode taught me how to read Shakespeare, so when I heard the sad news that he had died, I went back and reread his own essay on Auden teaching Shakespeare at the New School in the mid 1940s.
At one point, Kermode takes up Auden on Antony and Cleopatra and then becomes swept up into both the play and Auden's worldly, original response to the play. His critical imagination launches itself off Auden the way Auden's own imagination has suddenly thrived on Shakespeare's ancient lovers. Kermode: "Antony and Cleopatra are having their last affair and its purpose is to enable them to escape the future, old age and death." He quotes Auden: "[The two lovers] need the fullest possible publicity and the maximum assistance from good cooking, good clothes, good drink." And then Kermode himself: "The poetry of their love talk is like fine cooking, a technique to maintain excitement even as the senses cool." Beyond the gulfs of time and death, Shakespeare, Auden and Kermode—the playwright, the poet and the critic—make sense of experience under the aspect of eternity. Such a moment is why you go into the business of making sense of art in the first place.
It's why I enrolled in Kermode's lecture class on Shakespeare, sometime in the 1980s. Kermode had just arrived at Columbia, I believe. He was a tall, solidly built man with healthy wisps of gray hair, a benign, square-shaped face and black-framed glasses. He stood awkwardly at the lectern, somewhat befuddled by American informality as about 300 students filled up the lecture hall on a late summer afternoon. Out from the chattering, capering crowd, a slight girl with spiked purple hair emerged and walked up to Kermode. She put a small tape recorder on the desk where the lectern stood. Kermode leaned down to hear her better and because his microphone was on, their brief exchange rippled out in a muddled way throughout the room. Would you mind speaking into this? she said. Since speaking into the tape recorder would have required Kermode to bend at a ninety-degree angle from the waist throughout the hourlong class, he looked at her in exasperation and brushed some wisps off his forehead with donnish elegance. I'll see what I can do, he said.
Instead, he spoke with such softness throughout the course that all 300 of us had to lean forward to hear him. The gentle tones were not, however, some aristocratic affectation on the part of this humbly born man. They were the reflection of a calm, temperate, gentle character. Gentle, but rigorous. He failed half the class on the midterm and awarded only two A's among the remaining 150.
But if you were lucky enough to stick it out to the end of the course, you learned to regard Shakespeare not as sacrosanct art but as pieces of life compounded with poetry and wisdom. No wonder that in his essay on Auden, Kermode seems sympathetic to Auden's boredom with the idea of high art. "Shakespeare never takes himself too seriously," Auden lectured, and Kermode himself never took Shakespeare so seriously that he could not make the daring worldly observation that put a play in a whole new light, such as the idea that Troilus and Cressida was written for an audience of lawyers and thus its language was shrewd and lawyerly, slippery and contentious.
I never got to know Kermode, alas, but had one meaningful encounter with him. I handed in the final paper three weeks late and was told by the phalanx of graduate students jockeying to please Kermode that they couldn't accept it, which meant that I would get a C for the course—even though I had aced the midterm. So I went to Kermode himself. He sat awkwardly behind his desk—his natural elegance and sympathy seemed ill at ease with any kind of authority that had been conferred on him—while I expounded on the unjustness of his teaching assistants. Graduate students can be very rough, he said impishly. But tell me, he said, why is the paper so late? I fumbled around for a few seconds and then blurted out: "An excess of conscientiousness." He laughed softly and stretched out his hand. Here, I'll take it, he said. I like to think that it was one awkward self-made man responding to an awkward young man in the midst of self-making. I don't think a week has gone by in the many years since then that I have not uplifted myself with the memory of Kermode's kindness to me. It didn't hurt, either, that I got an A for the course.