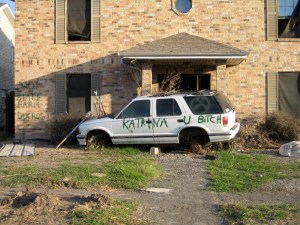 LISA + DONNIE R OK. The words are both hopeful and bone-chilling. They were scrawled, in 2005, on a once-pretty white house with pale-blue shutters in New Orleans' Ninth Ward.
Five years ago this month, one of the deadliest hurricanes in U.S. history swept through Louisiana and Mississippi. An exhibition opening Aug. 28 (a day before the fifth anniversary of Hurricane Katrina) at the New Orleans Museum of Art puts a score of photos documenting the tragedy up on the walls. They were all snapped with a digital pocket camera by noted photographer Richard Misrach in the days and weeks following the hurricane. The show, dubbed "exhibitionUNTITLED [New Orleans and the Gulf Coast 2005]," melds a focus on graffiti and street art with fine-art photography. While there are no people in the pictures, the exhibition nonetheless calls up raw emotion and human sorrow with its images of homemade magic-marker signs and spray-painted messages scrawled on dilapidated buildings, fences, cars and trucks.
These messages range from the gut wrenching-"Destroy this memory"-to the cautionary: "Don't Try-I am sleeping inside with a big dog, an ugly woman and two shotguns." The exhibition is meant to give Katrina's victims, said Mr. Misrach, "an unmediated voice, heard in a way that I haven't seen before." The American photographer is best known for producing major series, such as the vividly colored landscape suite "Desert Cantos" and a series on the Mississippi industrial area dubbed "Cancer Alley." His photos are in the collection of more than 50 U.S. museums.
"It is always important when a celebrated contemporary artist … drops [his] work and rushes to the aid of such a calamity," said NOMA curator of photography Diego Cortez.
Far from random, the order of the exhibition is no accident-Mr. Misrach deliberately arranged the project in a narrative that follows "the profound range of emotions and responses" felt by victims, he wrote in an email exchange with The Observer. These emotions range from fear, to defiance ("Hey Katrina! That's all you got? You big sissy!!! We will be back!!!"), to anger, to mourning, to hope, to raw pleas for relief. After the three months Mr. Misrach spent in New Orleans photographing these messages, he came away with a single conclusion. "New Orleans is remarkably vital and resilient," the photographer said.
Mr. Misrach's Katrina photographs were printed in editions of five and complete sets were given to NOMA, the Museum of Modern Art, the National Gallery of Art in Washington, D.C., the San Francisco Museum of Modern Art and the Museum of Fine Arts, Houston. The Houston museum is also showing the photographs in an exhibition that runs through Oct. 31.
The exhibitions are meant to serve as a stark reminder, and a necessary one, that the aftermath of Katrina is still very much a part of everyday life in New Orleans. Mr. Misrach said he's been amazed that "the rest of the world had already forgotten."
editorial@observer.com