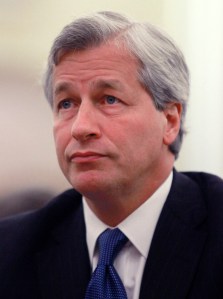 Update: Zero Hedge blogger "Tyler Durden" questions the reported unwinding of JPMorgan Chase's prop-trading operations, pointing to JPMorgan's recent acquisition of energy prop-trading operation Sempra and the firm's naming of a new head of commodities strategy.
–
In an effort to comply with new restrictions articulated by the so-called "Volcker rule," behemoth bank JPMorgan Chase has begun to unwind its proprietary trading operations, Bloomberg reports.
JPMorgan's London-based commodities desk was apparently the first to fall. That shutdown, which according to a Bloomberg source was signaled to traders on August 27, in accordance with U.K. labor laws. Proprietary trading in fixed income and equities are also slated to be shut down. Traders at the commodities desk are being offered a chance to seek work elsewhere within the company, according to the report.
The Volcker rule is a segment of the Dodd-Frank financial-reform bill that bars banks from initiating trades with their own money.
According to The Wall Street Journal, "The bank is expanding trading and its other capital-markets business elsewhere." JPMorgan's move follows the October sale by Citigroup of its Phibro commodities trading business. Other companies, such as Goldman Sachs, have yet to decide what to do with their prop-trading units.