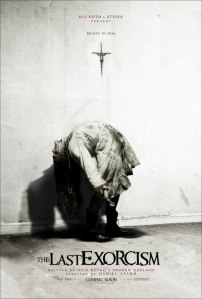 If it's the last weekend in August, it's time for some truly forgettable mainstream movies! Why waste time on studio dumps, however, when you can see a plethora of well-received indies? Well, those and Avatar again (it's getting re-released).
The Last Exorcism
Premise: From executive producer Eli Roth — who you either remember as the schlock horror director behind Hostel or the SAG Award winner for his role as The Bear Jew in Inglourious Basterds — comes The Last Exorcism, a faux-documentary about a charlatan's "last exorcism" that combines elements of The Blair Witch Project with The Exorcist.
Reviews: Surprisingly… solid. Perhaps because critics have been pummeled into submission by the summer's worse efforts, The Last Exorcism has gotten a pass from most major critics it's currently sitting with a nearly 70% positive rating on Rotten Tomatoes. Christy Lemire from the AP says it's "one of the scariest movies to come along in a long time," which means it's at least as scary as Eat Pray Love.
Should you see it: If you feel like having a good nightmare tonight, then yes.
Takers
Premise: A group of high-minded criminals (Idris Elba, Hayden Christiansen, Michael Ealy, musicians Chris Brown and T.I.) get together for one last heist while an honest and determined cop (Matt Dillon) tries to stop them.
Reviews: Timmmmbbberrrr. The critical consensus on Takers can be summed up in three reviews: Nathan Rabin of the AV Club compares it to a liquor ad; Betsy Sharkey's review in the Los Angeles Times claims the movie would be good to sleep through, if it weren't so "noisy"; and the Boston Globe's Ty Burr suggests the cameraman try a dose of Ritalin next time.
Should you see it: Not unless you're in a relationship of some kind with Hayden Christiansen.
Centurion
Premise: Director Neil Marshall (The Descent, Doomsday) brings his hyper-violent style to Scotland during the Roman Empire for Centurion, a tale of Roman soldiers left behind enemy lines that includes more than a few decapitations.
Reviews: Just about middle of the road. The mileage critics have gotten out of Marshall's latest seems directly proportional to how they react to his violence. For some (EW's Chris Nashawaty, Betsy Sharkey) it's more than enough to sustain a film; for others (the Post's Kyle Smith, Roger Ebert), it's not.
Should you see it: Do you like movies about Romans? How about decapitations?
Mesrine: Killer Instinct
Premise: Vincent Cassel (Eastern Promises, Ocean's 12) stars as Jacques Mesrine, a French gangster who shot to prominence as "Public Enemy No. 1" in this 2008 French import.
Reviews: The great French cast aside (Ludivine Sagnier, Mathieu Amalric), critics all seem to agree on one thing: Cassel is brilliant. "Riveting," writes Tasha Robinson for the AV Club, with others use buzz words like "knockout" and "spectacular" to describe Cassel's performance. Just don't tell Armond White, though — he hated it.
Should you see it: Compared to the rest of this lot, absolutely.