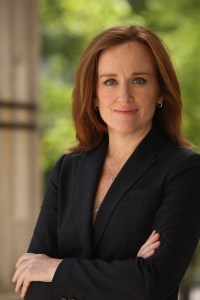 Kathleen Rice is up on the air with the first network television ad of the 2010 attorney general's campaign.
The 30-second ad, called "No Pushover," highlights Rice's claim that she is both a progressive and tough on crime, which could be a difficult needle to thread as AG candidates like Richard Brodsky and Eric Schneiderman push her from the left and she tries to stay somewhat in the center to take on Dan Donovan in the general election in November. The ad point to Rice's efforts to crack down on corruption and Internet predators, while also touching on her "groundbreaking treatment and job training programs" which the piece says brought drug crimes down 70 percent.
"I'll be a pro-choice, crime prevention attorney general," Rice says at the end of the spot. "But anyone who commits a violent crime or rips off the taxpayers will be brought to justice."
Rice's supporters received a sneak preview of the ad this evening via email, and the email says that the ad will go on the air in New York City, Rochester, Buffalo, Syracuse, and Albany starting tomorrow today. Other details of the ad buy remain unclear.
The email also points readers to our post on Rice's fundraising numbers, even though those numbers are being disputed by NYPIRG.
Watch the full-ad below: