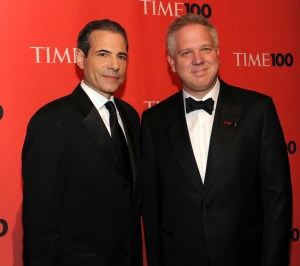 Time Magazine is bloody but unbowed. Howard Kurtz shows Time editor Rick Stengel wearing an arm sling after shoulder surgery in his column this week. "[H]e's the last man standing," writes Mr. Kurtz.
When the Newsweek sale was announced in the spring, Mr. Stengel told The York Times that his magazine was "very profitable last year, and we will be even more profitable this year."
"I've never taken any satisfaction in their downward spiral, but obviously it does create opportunities for us," Mr. Stengel told Mr. Kurtz.
Mr. Stengel has made cuts to his staff and reined in unpaid circulation in the last few years and, Mr. Kurtz reports, Time is on track to bring in more than $50 million in profit this year (part of this is coming from a growing events business, including a conference with Bill Clinton at this year's World Cup in South Africa). With new acquisitons like Fareed Zakaria, Mr. Stengel's magazine will only get stronger.
Meanwhile "institution builder" Sidney Harman told the Journal last week that he would be happy if Newsweek were breaking even in three years. He'll be 95.
"We've become a category of one," Mr. Stengel told Mr. Kurtz. But is any magazine ever in a category of one? And does any editor think that not having competition will be good for his or her magazine? There are other small, hungry newsweeklies out there: The Week, for example, which has been growing at a fast clip and pioneered ad-sales techniques that have been adopted by Time.
Read: 'Time 100' Gala Honors Influencers, Gathers Celebrities