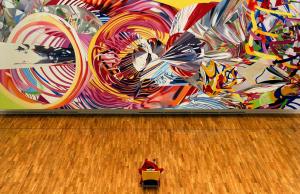 James Rosenquist announced that he will cancel his September show at Brandeis University's beleaguered Rose Art Museum. The artist told the Boston Globe late last week that his decision had nothing to do with the controversy surrounding the museum, but rather a 2009 fire that destroyed much of his home and studio and about $18 million worth of art.
The pop artist appeared utterly overwhelmed in his interview with the Globe, saying, "This is a total outside thing that's driving me crazy. If it was a small show or something else, OK. But no way. It's a big deal. I just can't do it."
Rosenquist said he told Brandeis president Jehuda Reinharz he would consider showing with the museum in the future, "if things get resolved." He added, "But I don't want to deal with it, really. It's a big mess."
Rosenquist isn't the first artist to pull out of the September exhibition slot. Earlier this summer, Bill Viola, Eric Fischl, and April Gornik—whose work was scheduled to appear in a fall show at the Rose—requested that their work not be shown until Brandeis agreed never to sell artworks from its collection.
The Globe reports Rosenquist recently resquested a similar binding promise from the University, and says the administration has not ruled it out.
And Rosenquist isn't the only one overwhelmed. Responding to the pop artist's announcement, Brandeis spokesman Andrew Gully sounded like he, too, felt like he was swimming aganst the tide. He told the Globe: "We will still have a show this fall. I don't know what it will be at this point. But we are clearly making every effort to have a vibrant Rose Art Museum. That goal remains.''