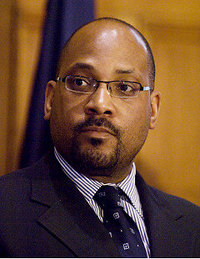 New York State Senate Democratic leader John Sampson will be brunching with the Stonewall Democratic Club at Junior's Cheesecake on Saturday. The meeting comes as a re-energized LGBT community has grown increasingly disenchanted with the Senate majority and several anti-marriage equality state Senators are facing primaries from challengers backed by gay rights groups.
Earlier this week, City Hall reported that Sampson implored two of the state's leading gay rights groups, The Empire State Pride Agenda and the Human Rights Campaign to remain neutral during the primaries. Sampson's entreaties were rebuffed, however.
And yesterday, Sampson told Liz Benjamin that he would not commit to bringing gay marriage to the floor in 2011. It was brought to the floor last year and was defeated, a rare occurence for a bill in Albany.
"We certainly want to ask him a few questions regarding the incumbent Senators he has been supporting," said Joe Hagelmann, president of the Stonewall Democratic Club. "We are focused on getting better Democrats into the New York State Senate. There is a lot of frustration with his continued support of some incumbents who in our opinion are some of the people that have to go."
Among the target list of incumbent Democrats that LGBT groups would like to dump include Shirley Huntley, Ruben Diaz, Sr., and Bill Stachowski. All three voted against the marriage bill last year.
"We would like to make it clear we are not happy with [Sampson's] donation of money and help to Huntley and we are not happy with his help for Ruben Diaz, Sr and frankly we are not going to be treated like we can be taken for granted," Hagelmann said.
And if a marriage bill is not brought back to the floor next year, Hagelmann said "That would be terribly upsetting."