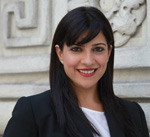 After several rounds of debates about debates with her Congressional primary opponent Carolyn Maloney, (resolution of which was finally achieved last night), Reshma Saujani is out with release this morning saying that she will hold a series of appearances–or "Community Conversations," she is calling them–without Maloney but with voters in the district.
"Voters want their representatives to come to their neighborhood and talk to them," Saujani says. "Time and time again, voters tell me that their current representative, Carolyn Maloney, isn't engaging them on the important issues, and they want leaders who will listen."
The first on, scheduled for August 23rd at the 14 Street Y, looks like it will be the most star-studded affair, or what passes for star-studded when talking about neighborhood town halls. There, Saujani will be joined by Ronnie Cho, who achieved some buzz for appearing in a documentary about the Obama campaign in his boxer shorts; Dodge Landesman, who ran for the City Council while still in high school and was profiled in the New Yorker, and Arthur Schwartz, a lawyer for ACORN.
The rest of the dates and locations for the Saujani tour are:
Wednesday, August 25, 2010 at 07:30 PM
92nd Street Y in New York, NY
Sunday, August 29, 2010 at 05:00 PM
Trellis Diner in Roosevelt Island, NY
Monday, August 30, 2010 at 07:30 PM
Holiday Inn -Lower Level Meeting Room in Long Island City, NY