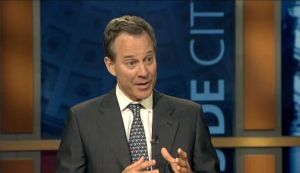 Fresh on the heels of new advertising campaigns by Democratic attorney general rivals Kathleen Rice and Sean Coffey, Eric Schneiderman is out today with his first television ad. A campaign spokesman says they have not yet determined where this ad will run, how often, and if it will be shown on broadcast or cable TV.
This is a much different type of ad than those we've seen from Schneiderman's rivals. It's sunnier, for one thing–Schneiderman spends a lot of time grinning–and it focuses on specific things Schneiderman did as a senator and he uses the voices of "regular people" to make his case.
And if Rice focused more on her tough-on-crime bonafides, and Coffey more on his biography, Schneiderman hits a theme that he has touched on throughout his campaign–social justice.
At the end, Schneiderman says, "I'm Eric Schneiderman and I'm running for Attorney General because we all deserve a justice system that works on Main Street, Wall Street and on your street," while the narrator intones, "As Attorney General, a colorblind justice system for all New Yorkers."
The campaign's lack of details on the size of the buy could mean that this is smaller effort than either Coffey or Rice's ad buys, both of which are running statewide. That said, with all of the unions and civic groups backing him, Schneiderman can rely on a grassroots get-out-the-vote operation and needs less to introduce himself to voters.