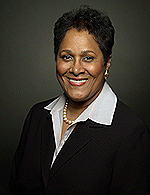 Austin Fenner, a former New York Post reporter now suing the newspaper over unfair employment practices, has landed a gig as an aide to Joyce Johnson, the former Seagram's exec and former Obama campaign field director who is now challenging Charlie Rangel for Congress.
"As you know, journalism jobs are shrinking and as a journalist, we all enjoy the rough and tumble nature of politics," he said. "It has an appeal to it that I find attractive."
Fenner, who is African-American, was fired from The Post last year and then sued the paper, alleging that his editors repeatedly cursed at him, made him travel further and with fewer resources than his white colleagues, and that he was forbidden from entering the newsroom for five months. In the complaint, Fenner also asserted that Gov. David Paterson asked to be interviewed by the paper after The Post ran a cartoon that showed two police officers shooting a chimpanzee and referring to the animal as the author of the stimulus bill, and that the governor's request was denied.
Fenner declined to speak about his lawsuit, but did say he was introduced to Johnson through mutual friends and quickly signed on as a campaign aide.
"I like the fact that she is an underdog," he said. "There would be no victory that is sweeter if you can start out on the bottom and come out on top."
He added that he thought at the Johnson campaign there would be "an opportunity to do more if you are not part of the machine."
Although Fenner said he still freelances, he sounded as if he is turning full-time to do political work.
"This is not the end-stop," he said. "I am making myself available."
Fenner never worked as a political reporter, but said he did cover the inauguration of President Obama and that his journalism skils were useful out on the hustings.
"I feel like I understand what the story should be," he said. "I hustle and I'm dedicated to the job."
His former employer has been withering in its criticism of his newfound boss's opponent, leading Rangel to call out the paper at a recent gathering of Harlem bigwigs.
Fenner refused to comment on how The Post could be unwittingly helping him in new capacity.
"I am trying to get media coverage for Joyce Johnson and her campaign," he said. "I am not trying to get media coverage for myself."