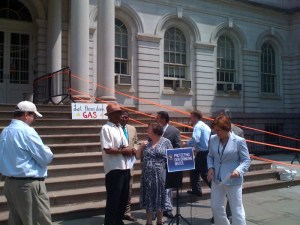 Senate Democrats stood behind Majority Leader John Sampson's unwillingness to pledge to bring gay marriage up for a vote in 2011 in a series of interviews today.
Many State Senate Dems gathered on the steps of City Hall for a press conference on hydro-fracking and they agreed with Sampson that it may make sense to hold off on marriage equality for the time being.
Sampson told Liz Benjamin recently that he would not commit to bringing gay marriage to the floor in 2011, and he's angered gay advocates with his pledge to support all Senate Dems seeking reelection (that includes six who voted against the same-sex marriage bill, which killed it 38 to 24).
"I think John Sampson supports gay marriage," State Senator Diane Savino told The Observer. But, she added, "Bringing the vote to fail doesn't make sense."
The Senate needs to have a better understanding of how the vote will go before bringing it to the table, Savino said.
"I think we need to elect more people willing to vote yes."
State Senator Bill Perkins said that this is issue is key for him, but that the legislative process is not so simple.
"This is for me one of the single most important pieces of legislation," he told The Observer. "I would like to get this passed yesterday.
But, "The legislative process is nuanced this way," he said. "If you don't have the vote, you might want to hold off. … You don't retreat and throw it in the garbage, but you save it for another time that's more opportune."
"I'm frustrated," Perkins said, who added, "I will defer to the strategic sense of the leadership."
A Sampson spokesperson said in a recent statement to Capital Tonight that he is still a strong supporter of gay marriage: "There was and is support for marriage equality in our conference and Senator Sampson will not stop working until it becomes reality in New York," the statement read.
And Liz Krueger, who has been a strong supporter, said on Tuesday that she didn't want to see the cause damaged by another no vote.
"It is not a useful message for the movement," she said of another potential vote against gay marriage. "I'd be thrilled to death … if my colleagues shifted their position," she said, adding, "I want this bill passed as quickly as possible."
But without many more pro-marriage Democrats in the Senate, the current crop in the upper chamber of the New York legislature realized that rushing it may not be the way to go.
"I don't think it is helpful," Krueger said.
slevin@observer.com