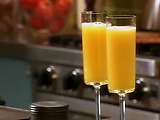 Creditors of the Cipriani restaurant empire announced plans to sell off all company assets to pay off its debts, a move that puts a handful of landmark New York restaurants in the high-end chain on the chopping, and auction, block.
If Capitol One goes through with the plan, it could mean the end of the clubby Cipriani Fifth Avenue, a paparazzi stake-out spot that serves $30 pasta, of Cipriani's midtown event hall that hosts several hundred charity benefits a year and of the swanky West Broadway Cipriani outpost. Regulars at the uptown spot include Michael Douglas, Diane von Furstenberg and Simon de Pury.
Cipriani has bars, restaurants, hotels and private clubs in seven cities around the world, but the empire began in 1931 at Harry's Bar in Venice (Ernest Hemingway, a regular, once wrote it was "a sacred space"). Harry's became renown for its signature Bellini made of white peach juice and prosseco and the Italian government named the canal-side eatery a national treasure. But union troubles, so-so reviews for it's food and legal problems dogged the company. in 2007, Arrigo Cipriani and his son Giuseppe pleaded guilty in state court to filing false corporate tax returns, and debts have mounted since.
It's unclear whether Cipriani's foreign operations will be exempt from the forced sale. But the closure of the company's Cipriani private island hotel in Venice, which is the unofficial headquarters of the tony Venice Beinnale, would spark something of a luxury panic in the art-world set.
Cipriani, which has operated restaurants in New York since the 1980s, told the New York Post it will sue to block the auction, currently planned for Sept. 7.