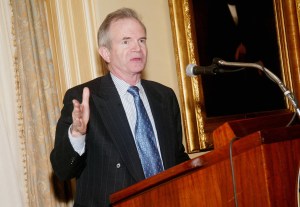 In October 2007, Paul Steiger told The Observer that he wanted to use a Wall Street Journal pay model to recruit staffers to his fledgling nonprofit, ProPublica.
"I'm prepared to spend $200,000 on the exact right person, but if the exact right person isn't there, then I'll get three people at $60,000," he said.
Since then Mr. Steiger has found at least a half a dozen people that fit the "exact right person" bill.
ProPublica's Form 990, as first reported by FishbowlNY, gives a clear look at how its staffers are well compensated. So let's investigate the investigators! Eight employees made more than $160,000, topped by Mr. Steiger, who brought in $571,687, plus an additional $13,000 in compensation. (Life is definitely good for Mr. Steiger-he reportedly made up to $5 million when he left The Journal in 2007.) Other big wage-earners include managing editor Stephen Engelberg ($343,463) and the best paid reporter, former Washington Post writer Dafna Lizner ($205,445, or, if you examine her 17,000 or so words, roughly $12 per word in 2009).
On the one hand, ProPublica has the totally defensible position of promoting investigative pieces at a time when no one invests in them. One of their pieces-in collaboration with The Times Magazine-won both a Pulitzer Prize and a National Magazine Award. (If you click on their Web site, there are many other awards and nominations; Mr. Steiger has always been award-happy). Also, they're funded by Herbert and Marion Sandler (who gave an additional $4.5 million in 2009), so bless them for that.
But on the other hand: They make whaaaaaaaat? The journalism business has been rough recently, which makes Mr. Steiger's salary seem particularly …
"Obscene," tweeted Tunku Varadarajan, a former Journal staffer who is now an editor at large at the Daily Beast. In another tweet, he nicknamed the news outfit "ProSteiger."
So what's the deal? Mr. Steiger didn't return our calls. Instead, Richard Tofel, former assistant publisher at The Journal and current general manager of ProPublica, spoke to us.
"We were not the New York Yankees of journalism," said Mr. Tofel, who made $320,978 plus another $21,392 in compensation.
"We've said from the very beginning of this, that we were going to pay market salaries to people for their work, and so we do," he continued.