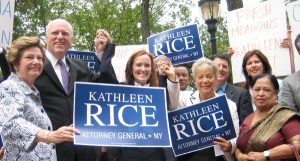 The Daily Politics reported earlier today that Assemblyman Andy Hevesi, whose name was on a list of endorsers sent out by Kathleen Rice's attorney general campaign, did not in fact endorse the Nassau County district attorney.
Now, Sen. Shirley Huntley, whose name is also high-up on a release sent out by the campaign yesterday detailing their supporters, said she did not endorse Rice either for the job.
"Officially, I have not [endorsed Rice,"] Huntley said when reached by phone this afternoon. "I have not made an endorsement of anyone."
Huntley is locked into a tight primary of her own against Lynn Nunes, who is being backed by groups that support gay marriage, to which Huntley is opposed.
Rice did receive the endorsement of the Queens County Democratic Party yesterday, and most of the borough's elected officials have signed on to her campaign.
Huntley said that she knew about her supposed support for Rice when a staffer called and told her that her name was on the list. She seemed unfazed by the incident, telling the Politicker, "This is politics. I will just have to deal with it."
She did not rule out an endorsement of Rice in the future.