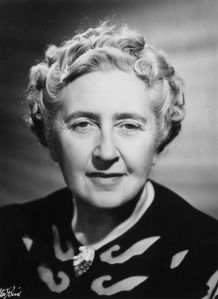 The longstanding tradition associated with Agatha Christie's 1952 mystery play The Mousetrap requires audience members to guard the identity of the murderer with their lives once they leave the theater. If you've seen it and meet a person who hasn't, custom implores you to use discretion and refrain from spoiling the ending.
Wikipedia, of course, follows no such customs. The online encyclopedia's entry lets the cat out of the bag, and does in a fairly conspicuous way: there's a section entitled "The identity of the murderer." The Independent reports that the descendants of the British detective novel scribe are worried that this full disclosure may reveal the twist ending to unsuspecting Christie devotees, therefore rendering the theatrical experience moot.
Seemingly just now alerted to the prevalence of online spoilers, Matthew Prichard, Christie's grandson, told The Independent that he will approach the play's current producer in hopes of having him do something about it. "I don't pretend to be an expert on Wikipedia or modern technology," Prichard said. "All I can tell you is that from the point of view of the theatre-going public, I think it does spoil the enjoyment of those going to have an entertaining evening at the theatre—one part of which is to guess who the murderer is."
Wikipedia had a fairly simple solution for Christie kin: if someone hasn't seen the play, they shouldn't read the entry. "Asking Wikipedia not to reveal the identity of the murderer is like asking a library to remove copies of The Mousetrap book from shelves because someone could just go and read the end," a spokesman said.
But those steering clear of the Wikipedia entry until they see the play may be waiting awhile—only one production can only be performed outside London's West End per year, according to the license. So you might as well save yourself the effort and look. You'll never guess who the murderer is. It's definitely not the Sergeant or anything.