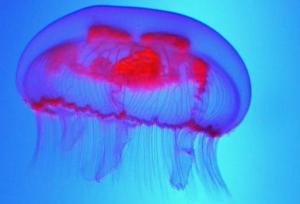 A Staten Island bar has painted over its "apocalyptic" mural following criticism from local firefighters, reports The Times:
In the mural, an enormous red cloud heaved over a spindly Verrazano-Narrows Bridge. In the foreground, people abandoned their vehicles and ran for their lives, while, above them, others fell prey to flying glow-in-the-dark jellyfish….

The firefighters, the owners said, pressured them into painting over the mural because they thought it depicted a terrorist attack.
We hope that the replacement will feature appropriately patriotic and non-menacing sea creatures. Like dolphins, or otters.