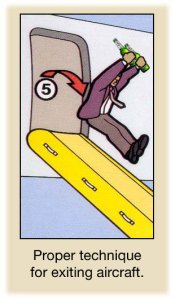 It's been less than a week and we're already reconsidering the legacy of folk hero flight attendant Steven Slater. Earlier today we noted that Slater could be an ideal spokesman for any number of products, including Jet Blue. Now, via the Wall Street Journal, we learn that the saga of Steven Slater, Angry Man of the People may be a little more complicated than it seems. Slater may just be plain old angry:
Marjorie Briskin, a 53-year-old schoolteacher from Pittsburgh, said she was deplaning in John F. Kennedy International Airport around noon Monday when Mr. Slater and a woman walking in front of her got into a heated conversation over the woman's luggage. She said the passenger, who appeared to be in her 20s, asked Mr. Slater where her bag was stowed.

Ms. Briskin said the seemingly normal conversation turned unexpectedly nasty when Mr. Slater blurted out an expletive to the passenger.
Ms. Briskin wasn't the only passenger to note rude behavior from Slater on that legendary final flight before his slide into glory. The WSJ interviewed other witnesses who detailed rude and dismissive behavior on Slater's part. Pittsburgh resident Lauren Dominijanni told of requesting wipes to clean up a small spill. Slater, said Dominijanni, rolled his eyes, pointed at an injury on his forehead and said, in part, "Maybe when we get in the air! I need to take care of myself first, honey!"
Steven Slater never did give Lauren Dominijanni those wipes.
Is Steven Slater on his way from service industry rebel to burned-out villain? Not if his ex-wife (they weren't married very long) has anything to do with it. In an interview on NBC's Today, Cynthia Susanne declared Slater "the consummate flight attendant" who was "literally born to fly."
With the introduction of further controversy into the narrative, Slater's in the full bloom of his Warholian 15 minutes. Let's hope he enjoys it.