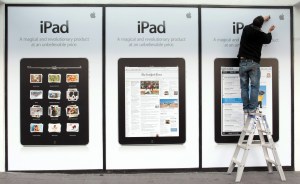 It's no secret that magazine companies are bullish on the iPad but today Peter Kafka points to a study that shows iPad revenues may not ever grow to industry-saving levels.
The study, conducted by Oliver Wyman, says that iPad magazine versions will only account for $1.3 billion in additional revenue for the entire magazine industry in 2014, assuming current growth trends. By contrast, Kafka notes, Time Inc. alone made $900 million last quarter (and for what it's worth their iPad experience has not been entirely painless).
There's still plenty to be optimistic about, of course, as the study found that consumers don't mind paying magazine prices for the virtual editions. Plus, the study doesn't seem to include iPad-only magazines, which are sure to be a trend by the futuristic 2014.