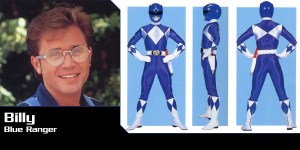 Yesterday, the Blue Power Ranger, also known as David Yost, told the world he was gay in a video interview with a fan blog called No Pink Spandex. Today, the internet is abuzz with it, and the search term "Power Ranger Azul" is trending on Twitter. (I guess Power Rangers is/was big in the Spanish-speaking world?) Which made us think: Celebrities usually try to capitalize on their public outing for maximum effect, and here's David Yost missing a chance to grab for 15 more minutes—to some nostalgic fanboys, no less. For Yost, a television producer who has no obvious plan to regain the spotlight, the low-key coming out makes sense. In fact, it's downright admirable. Here's a look at how some other notable figures outed themselves recently:
Ken Mehlman, George W. Bush's 2004 campaign manager
When: Last Night
Venue: The Atlantic
Headline: Bush Campaign Chief and Former RNC Chair Ken Mehlman: I'm Gay
Cheesy Sound Bite: "It's taken me 43 years to get comfortable with this part of my life. Everybody has their own path to travel, their own journey."
How It Played: Spot-on. Despite being his long-time friend, politics editor Marc Ambinder prods him into taking responsibility for his silence: "Mehlman acknowledges that if he had publicly declared his sexuality sooner, he might have played a role in keeping the party from pushing an anti-gay agenda." If he'd shopped it out to another outlet, or just made a personal statement to friends and family, he might've been able to avoid having to give those answers. Media-ite has further details about how Mehlman timed the release of his coming-out story to coincide with a $5,000 donation to the American Foundation for Equal Rights, a gay rights committee.
Danielle Staub, Real Housewife of New Jersey
When: June 22, 2010
Venue: Watch Watch Happens Live, Andy Cohen's Personal Soapbox
Why: To perform her new song, "So Close," a collaboration with lesbian singer Lori Michaels
Cheesy Sound Bite: Just listen to the song
Appropriateness of Media Outlet: A Bravo star going on another Bravo show, pretending to be gay with her new lesbian lover/songstress? Where else would this happen?
Side Note: I met Danielle Staub personally right after she made this "lesbian love song," and, when I told her it seemed like playing the bisexual card was a good way to try and stay in the public eye, she agreed, and said she wanted to "be in the spotlight for as long as possible." Sounds like she's definitely not pretending to be gay as a publicity stunt, right?
Venue: People magazine
When: May 3, 2010
Headline: Country Music Artist Chely Wright Comes Out
Cheesy Sound Bite: "Nothing in my life has been more magical than the moment I decided to come out."
Appropriateness of Media Outlet: In the weeks leading up to publication, People teased the public by touting that a big celebrity was coming out in its pages. After rumors that the celebrity was Chely Wright leaked early — to tepid reception in the blogosphere — the editors decided not to run it as a cover story. Wright said that those who were disappointed didn't understand what it meant to grow up closeted in a conservative setting, so maybe she should've taken her story to people who do: a country-music magazine like Country Weekly.
It seems like the coming-out story isn't as big news as it once was.