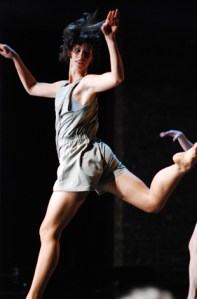 Ellis Wood, the daughter of two Martha Graham company members, has been dancing "since the dawn of man," she said. But for Ellis Wood Dance Company, which has supported from five to nine full-time dancers year-round for the past 10 or so years, these are exceptionally difficult times.
Ms. Wood's seven-year funding grant ran out after five. Then the funders of her mid-career grant called and informed her that it no longer existed. Incorporating as a nonprofit, she shifted to individual donations from grants as her company's main source of financial support because "there is less money for the same pool of people" these days, she said. Next, she pared down to four dancers. Recently, she decided to make her work more "accessible" and focus on a (cheaper-to-produce) solo project. Two weeks ago, she got news that her rehearsal space, Dance Forum in Union Square, is shutting down.
'People are leaving because it's too hard to sustain themselves as dancers,' said one company manager.
Times are perennially hard for modern dancers, but company managers, dancers and grants groups said the current climate may be among the most difficult they've ever faced. Long-independent dance companies are undergoing a wave of mergers like the one that gripped the investment banking business in 2008; some experimental spaces have closed or threaten to soon. Dancers report living in substandard housing; others have had to abandon Manhattan for Brooklyn. The recession also has consequences for simple lovers of dance. Across the board, audiences are being offered smaller and, sometimes, less experimental work. "I used to make pieces called Hereticus," said Ms. Wood. "Now I make pieces called Mom."
Since the 1950s, New York City has been the center of modern dance in the United States and, often, the world. From Broadway to Balanchine to Trisha Brown, dancers, and dance of the highest caliber, are a New York hallmark. Even with the recession and attendant deep funding cuts in the dance world, dancers must remain here-there is virtually nowhere else to go to consistently practice their craft in the U.S. And contemporary or "modern" dance often entails long rehearsals for little or no pay, even in cases when history books already record the significance of the performer or choreographer.
Indeed, fame is no defense against financial woes. The legendary Joyce Theater learned late last month that their $1-a-year lease deal will not be renewed. Dance Theater Workshop, a hub of downtown dance, has struggled in the recession and announced on April 9 that they would merge with the Bill T. Jones/Arnie Zane company, sharing space and staff. On July 14, major Manhattan dance studio Dance New Amsterdam was scheduled to shut down after 26 years because it could not pay the rent. After an impassioned "dance-in" at City Hall, the studio received a temporary reprieve. But its future remains uncertain. The situation is getting worse: While 2008 or '09 might have been the U.S. economy's darkest hour, the deepest cuts in the dance world are only coming down the pipeline now, dancers and company managers said, since budget committees take time to come to grips with a poor economy.
Most dance entities rely on grants or other forms of assistance from the city, the state or the National Endowment for the Arts, all of which have, to one degree or another, cut back. Earlier this summer, Mayor Bloomberg's budget for fiscal year 2011 passed with a 31 percent reduction in financing for arts groups. These cuts were actually was less draconian than originally proposed, but the reductions came on top of those suffered for fiscal year 2010, and Governor Paterson has also proposed cuts to the state's arts budget.
Meanwhile, there is perhaps no performing arts vocation less financially rewarding in Gotham than dance. Actors can work in many forums simultaneously, picking up work on a sitcom or a Broadway show to shore up their finances. The better ballet dancers can eventually expect a regular salary. Modern dancers, who generally fine-tune their bodies rigorously and for hours for a particular technique, do not have those remunerative options. So the field is consolidating, even shrinking, and dancers are getting creative.
"I'm seeing more shared shows, more studio showings, more self-producing," said Anneke Hansen, head of Anneke Hansen Dance, a small New York City-based company. Companies are moving their rehearsal space out of Soho and into places like Ridgewood, Brooklyn. "People are leaving because it's too hard to sustain themselves as dancers," Ms. Hansen said. She won't leave New York because she applied for, and won, city-subsidized housing in 2004-her "fairy godmother," she called the Two Bridges area studio apartment with a rent so low she asked that it not be published. But she just had to move her studio to the Bushwick/Ridgewood border for financial reasons.
One of the biggest changes in the modern dance world has been geographic-with its many Manhattan expats and start-up dance spaces, the new headquarters for modern dance in New York just may be Bushwick. Chez Bushwick, a nonprofit organization off the Morgan stop on the L, opened in 2002 offering rehearsal space for $5 an hour. It's on an industrial block surrounded by abandoned-looking buildings, complete with Mack trucks parked next door and tennis shoes thrown over the power lines. It is rented out 24 hours a day. And it's still hard to schedule rehearsal time,said managing director Christina deRoos.
Dancers are doing the hustle. Tatyana Tenenbaum, a young choreographer, uses re-purposed space she finds through nonprofits such as auntisdance.com for her performances, often bartering instead of paying for the space. For a recent performance in an abandoned church in Bushwick, she exchanged the use of the space for her grant-writing skills, which she honed working in arts administration for the dance nonprofit The Tank. For rehearsal space and classes (another huge expense), she relies heavily on entities that also get funding from grants, like the Center for Performance Research, in Williamsburg, where she "splurges on the $13-an-hour space." She also received a Brooklyn Arts Council grant to support her own work, She hopes this will enable her to pay her dancers "something more than dinner."
"I feel like dancers put up with things no one in any other profession would," Ms. Tenenbaum said. She has worked for [just] dinner before, she said, and for free. "It is a sequestered high art. There is not much of a market for it." Nonetheless, she'll continue to dance.