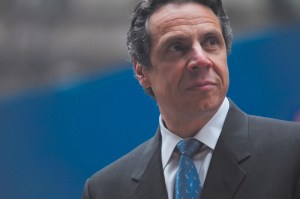 On and off over the past few weeks, Andrew Cuomo has been rambling across upstate, toting his 250-page policy book, drumming up plaudits from editorial boards and encouraging citizens to sign a pledge of allegiance to Mr. Cuomo's vision for a "new" New York state.
But in the Capitol, it is proving to be a tough sell.
"I think that it's somewhat of a conflict of interest for state legislators who are independent, and duly elected themselves, to be pledging anything to a gubernatorial candidate," said State Senator Kevin Parker last month. "This is not 17th-century England, where the nobles have to bow to a king at his coronation. We expect that the adversarial process of government will continue to go on."
There will be no bowing in the lower house, either.
"I think legislators feel somewhat offended by it," said mild-mannered Assemblyman David Weprin, a relative newcomer to Albany and a supporter of Mr. Cuomo, of the attorney general's constant campaigning against the Capitol's dysfunction.
For the presumptive governor-who is currently the beneficiary of garish approval ratings, an overstuffed war chest, and a positive, bad-guy-slaying narrative in the media-the perpetual problem still looms of what to do about the Legislature. He says that his campaign, pledge included, is designed to create a groundswell of support for reforms like nonpartisan redistricting and campaign finance restrictions, which will in turn put pressure on the complacent senators and assembly members to change or perish.
But while the Cuomo on offer for public consumption is a fearsome warrior, kind of in the pre-downfall Spitzer mode, the view from inside the Capitol seems to be that he's going through the necessary motions, and that in fact he's a man they can perfectly well do business with. With or without a pledge.
"I have never seen the pledge," said Assemblyman Keith Wright, at a rally opposing nonpartisan elections last Thursday afternoon. "But I usually don't sign pledges."
Mr. Wright, who doubles as Manhattan's Democratic chair, had just peeled away from an array of Democratic officials gathered on the steps of City Hall, who were baking in the mid-afternoon sun.
While the partisans wiped their brows and fiercely defended the prerogative of the Democratic Party, the top of the ticket was upstate, pledging to clean up a government that's already controlled by Democrats.
"Don't all governors do that?" Mr. Wright said with a shrug. "Andrew's not an unknown entity. I've known him for 30 years. I think the relationship will be fine. I think the relationship will be good. I think much is being made out of it in the press-of possible friction."
"Every governor has a love-hate relationship with the Legislature," said one longtime political consultant. "They love to tell the public how much they hate the Legislature."
Some more than others.
Mr. Cuomo-who is following the path of Eliot Spitzer from the attorney general's office to the governor's mansion-has taken a noticeably different tack in his dealings with the Legislature.
Mr. Spitzer, who had to contend with an entrenched Republican majority in the Senate, made a point of leveraging his personal popularity in legislators' home districts, pummeling them for opposing his policies in front of hometown crowds and browbeating candidates who didn't fall in line.
Mr. Cuomo has-so far, at least-restricted himself to sharing the stage with supportive legislators in carefully crafted stops across the state.
"Eliot Spitzer was similarly popular when he was running for governor, he was similarly ahead of a similarly incompetent Republican candidate, but that's where the similarities end," said the consultant. "Andrew Cuomo is actually good at politics."
In office, Spitzer wielded his mandate-an impressive 40-point margin-like a battle ax, passing an on-time budget and exacting concessions from unions and Senate Republicans. But the constant crusading quickly cost him would-be allies and, eventually, legislative victories.
"With such an example of what not to do, there's no way [Mr. Cuomo] is going to repeat the Spitzer mistake," said a veteran Democratic operative who has worked for both camps.
"Behind the scenes, he's on the phone. He's an inveterate phone worker in ways Eliot never was," said the strategist, who pointed out that Mr. Cuomo had ample time to work the phones during this year's interminable budget process, when the attorney general was reportedly advising lame-duck Governor David Paterson. "Eliot never wanted to engineer victories for legislative leaders. There just wasn't a process whereby he would share the credit for doing things, and that's ultimately the only way you'll have long-term success."
That, and, perhaps, a functioning Democratic majority. Mr. Cuomo's success in enacting an ambitious agenda inevitably hinges on a more stable margin in the State Senate, where the leadership has been perpetually ransomed by the prospect of a single dissenter.
With a more cooperative Senate, the thinking goes, pressure can be brought to bear-from the electorate and the second floor-on the Assembly caucus, even on bills long opposed by Assembly Speaker Sheldon Silver-like, say, the property tax cap Mr. Cuomo has been pushing.
But on the campaign trial, Mr. Cuomo isn't exactly selling the public on that prospect just yet.
"The first lesson to learn is that not everything changes on Day One," said the consultant. "Day One everything stays substantially the same."
So, while Mr. Spitzer campaigned on the notion that everything would change with his election, Mr. Cuomo is taking great pains to sell his reform agenda as a long-term prospect that depends as much on the public as on his own power and personality.
"I've known Andrew and the family for a long time. I don't think he's looking for any wars," said Assemblyman Herman "Denny" Farrell Jr., who stayed long after the nonpartisan rally ended, recounting for reporters the long-ago history of the party's nomination process.
"It's just keeping it on issues, out of personalities," he said of Mr. Cuomo's campaign. "Elections make you have to do silly things, and say things sometimes that aren't where everybody wants to be. You don't get into a war over that. People say what they say. The election ends on November [2nd], and governing begins on January 1st."
rpillifant@observer.com