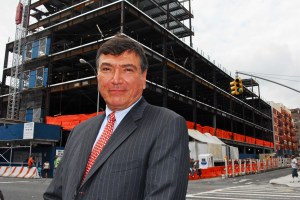 "My personal life is more interesting than my professional life," said Ira Schuman, half-joking, late last week.
And, certainly, for a man who delights in throwing elaborate 60-guest dinner parties, or for whom building a lake qualifies as a pastime, Mr. Schuman has a personal life that is indeed hard to beat for material.
Until, that is, you consider the Studley broker's 33-year knack for executing the kind of game-changing real estate transactions that routinely impact the city. From a deal in 1988 for Cravath Swaine & Moore that validated the far West Side for dozens of law firms that followed in its footsteps, to another last year that will breath new life into Hunter College, Mr. Schuman has handled complex office deals and not-for-profit transactions with aplomb.
In other words, Mr. Schuman's storied professional life may, in fact, be giving his personal life a run for its money.
"I'm proud of the fact that a large part of our business is helping a bunch of rich guys make better real estate deals when they're in negotiations against a bunch of other rich guys-that's perfectly legitimate work," said Mr. Schuman, 55, from a tidy corner office overlooking Park Avenue. "But, at the end of the day, when you complete a project and you end up with a new university or a new museum or a building like the national Audubon House, that's something different."
It was Mr. Schuman's work on behalf of the Lois and Samuel Silberman Fund that ultimately resulted in both the largest gift ever given to the City University of New York-approximately $30 million-and the Real Estate Board of New York's Most Ingenious Deal of the Year award.
The deal, which began nearly five years ago and grew to involve four real estate parties, was spurred by the nonprofit's bid to sell Hunter College's longtime home at 127 East 79th Street, with profits going toward the construction of a new building for the school on 118th Street in East Harlem.
To make matters more complicated, the 118th Street location was occupied by a strip of nine retailers, resulting in another entity with skin in the game. In the end, Mr. Schuman negotiated a deal for the Brodsky Organization to purchase the 79th Street building and develop a 140,000-square-foot school in East Harlem that will open next year.
Regarding the Igenie from REBNY, his very first, Mr. Schuman said the victory came as a surprise. And, no, he didn't prepare an acceptance speech for the ceremony.
"It never occurred to me that we would win," said Mr. Schuman who, along with broker Daniel Horowitz, received the award this May. "There are a lot of guys who submitted very interesting deals, you know? It's a tough competition."
In deference to his competitors, Mr. Schuman has continued to traffic in interesting deals since the REBNY award. Take, for example, his role in a deal that allowed the Gay Men's Health Crisis, a nonprofit dedicated to AIDS awareness, to occupy 166,500 feet at 450 West 33rd Street, a Broadway Partners building near Ninth Avenue.
As a broker for the public media outlet WNET, Mr. Schuman inked a sublet deal allowing the group now known simply as GMHC to lease space on the sixth and seventh floors of a building also occupied by the Daily News and the Associated Press.
Because of a restriction barring an in-patient clinic, which it now operates out of its current location at 119 West 24th Street, the deal has drawn the ire of activist Larry Kramer, who co-founded the group at the outset of the AIDS crisis. Mr. Schuman said, however, that the controversy surrounding the deal, which was inked last month, has remained isolated to a few activists.
"There was no real controversy associated with it," said Mr. Schuman, who also represented WNET in its deal in 2008 to occupy space at Avery Fisher Hall at the Lincoln Center. "The controversy was made up by some activists who wanted to make some controversy out of it. It was really the right solution for all parties involved. Sometimes things just get emotional."
AS FOR HIS personal life, Mr. Schuman, a Scarsdale resident with college-age children, described himself, with a well-placed guffaw, as your run-of-the-mill "amateur designer, inventor, economist, cook and caterer."
On a recent Tuesday, for example, he hosted a soiree in which 60 attendees showed up for a catered meal. While some of his guests hail from the real estate industry, his wife is Amy Paulin, a five-term Assemblywoman representing areas north of the Bronx, which makes for a sort of Algonquin Roundtable of the upstate variety. One can only imagine the conversation that spawns whenever a gaggle of real estate leaders, politicians and a mix of neighbors and pals gather for dinner.
As for his credentials as an inventor, Mr. Schuman recently converted his barbecue grill into a makeshift pizza oven, similar in vein to what Fornino is offering, to grand reviews, at its new Park Slope outpost. He's also tinkering with an under-floor heater for a deck and a solar-powered outdoor shower.
Judging by the pictures he snapped on his cell phone, however, his proudest achievement may be the lake he built several years ago in the backyard of his Ulster County country home. With a rustic stone dock, the lake was inspired by the swimming holes Mr. Schuman swam in as a young child.
"I like coming to work on Monday, but I also like leaving on Friday," he said. "I like the weekends."
But Mondays, they do return, which isn't to suggest that Mr. Schuman's energetic weekend persona trickles away. On the contrary, as Studley's longest-serving broker in New York, he's become a guru of sorts to the firm's younger recruits. Indeed, his office is regularly bombarded with questions from inquisitive brokers.
"After 30 years, you see a lot of stuff," said Mr. Schuman, replacing his nifty inventor's cap with the well-earned fez of a grand poobah. "I've seen irrational exuberance and seen recession. … And, I'll say, I prefer irrational exuberance."
jsederstrom@observer.com