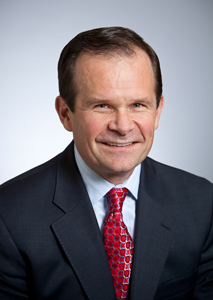 This morning we wrote about Jack Griffin, who is taking over for Ann Moore as the CEO of Time Inc., the largest magazine publisher in the world:
In his most recent stint at stint at Meredith, Mr. Griffin doubled the size of Meredith's magazine business with the acquisition of Gruner + Jahr USA. In the 2009-2010 fiscal year — not an easy one for the magazine business by any stretch — Mr. Griffin raised Meredith's revenue from $181 million to $192, and actually increased ad pages in titles like Better Homes & Gardens and Ladies' Home Journal.
Some further notes on Mr. Griffin's past.
Selected Titles Held at Meredith: President, Publishing Group; president, Magazine Group; general manager, Meredith Integrated Marketing; and vice president of marketing, Meredith Broadcasting Group.
Stints at Meredith: 1994-99, 2003-2010.
In Between: President of Parade Publications Inc. and publisher of PARADE magazine.
Meredith Marketing Slogan launched under Mr. Griffin: "We Inspire, She Makes It Happen."
On Keeping Secrets during the Gruner + Jahr deal: "The inner circle expanded very slowly, on a need-to-know basis, and all of us involved disciplined ourselves to think that if you tell anybody, you might as well tell everybody," Mr. Griffin told Ad Age. "Up until the very last day, I was the only person in New York who knew. The rest were executives in Des Moines. Now, what does that tell you?"
Compensation: $2.3 million in 2009, according to Forbes.
Awards: In 2005, under Mr. Griffin's watch, Proctor & Gamble Co. named Meredith an "agency of record." In the same year, Ad Age named Meredith its publishing company of the year.
On Expanding Meredith Beyond Shelter Titles: "It's still a pretty big business for us, but the growth had happened. There had to be a human element to this, not just rooftops but primarily women." [Ad Age]
Meredith Circulation Under Mr. Griffin: Near 30 million, making Meredith the second most-circulating publisher in the U.S.
Spanish Titles launched by Mr. Griffin at Meredith: Siempre Mujer
Education: Boston College, B.A., cum laude; Yale University, M.B.A. Former director of Yale Alumni Fund and chairman of Yale Alumni Association.
Philanthropy: Director of Catholic Relief Services, the official international relief and development agency of the United States Catholic Church.
Marathons completed: Boston, New York City, Chicago.
Age: 49
Sons: 2
Youth teams coached: Hockey.