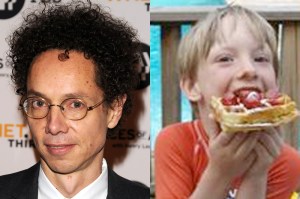 Though the schedule for the fall's New Yorker Festival has yet to be announced, it's a safe bet that Malcolm Gladwell will be a featured guest — he has been for the past five years. What is known is the sponsors and the delicious food they'll bring attendees.
HSBC takes over from Citibank and joins eight other companies in receiving "sponored by" credits, The Times reports, "among them the Acura division of American Honda Motor, American Airlines, Champagne Louis Roederer," and Delta brand faucets.
HSBC has stepped up the game in terms of food:
HSBC will also arrange for six popular food trucks to visit the sites where some of the 46 festival events are taking place. They will offer special menu items and discounts to bank customers. The trucks will include the Rickshaw Dumpling Truck, the Schnitzel and Things truck and the Wafels and Dinges Truck.
We're glad to see Stella Artois is no longer the "official beer of the Festival," as it was last year, because David Grann always gets so shitfaced. (Joke! We love you, David!)