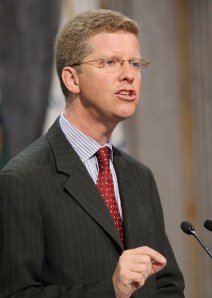 Following last week's dismal reports on the U.S. housing market's July performance, the Obama administration indicated over the weekend it's ready to pour additional money into the hole of debt and unemployment where many homeowners currently find themselves. In the offing: emergency loans for the jobless and government assistance in home refinancing.
But will the $8,000 tax credit for new homebuyers, a measure that may have helped prop up the housing market before a disconcerting July, come back? Too soon to say, said Housing and Urban Development secretary Shaun Donovan on CNN's "State of the Union With Candy Crowley" on Sunday. Okay, then, will the government use lasers, or at least laser analogies, to fix the housing problem?
"We're going to be focused like a laser on where the housing market is moving going forward, and we are going to go everywhere we can to make sure this market stabilizes and recovers," said Donovan.
Hard to get much more focused than a laser. Or much less focused than the Department of Housing and Urban Development. We're eager to see where on that spectrum HUD finds itself in the next couple months.