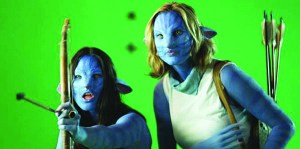 Avatar is returning to movie theaters next week in the hopes of reversing a disturbing trend in Hollywood: 3-D is fading at the multiplex. After some big hits like Alice in Wonderland and Toy Story 3, recent 3-D offerings including Cats and Dogs and Step Up 3D have withered.
But perhaps a bigger question for the future of 3-D is how This Ain't Avatar 3D is going to perform when it comes out next month. If you haven't heard of the latter, it's a porn send-up of the James Cameron hit from the good people at Hustler. Google it.
There are serious implications behind the prospects for 3-D porn. The history of modern media is that the adult industry has shaped how mainstream entertainment is consumed. Porn drove consumer adoption of the videocassette player, and the DVD, and was certainly ahead of its time in building online business models, as detailed in the new Luke Wilson film Middle Men. TV makers from Sony and Samsung to Panasonic have now bet their future on 3-D home entertainment. Porn auteurs in Hong Kong, Japan and Italy have all announced 3-D projects aimed to capitalize on the expectation that 10 percent or so of new flat-screens sold in the next year or so will be 3-D capable. Now, we shouldn't underestimate the power of 3-D to enhance more mainstream types of programming-from movies to live sports and video games.
And having struggled with a slumping economy and a plethora of free stuff online, is porn still the killer app it once was? To get an inside view, I rang up Steven Hirsch, the founder of Vivid Video, probably the biggest adult entertainment company. Mr. Hirsch says 3-D is going to be a big deal for his industry, and he is in production on Vivid's first film in the format: another parody, called Star Wars XXX-which will be directed by the same guy who did Ain't Avatar, Axel Braun, who is sort of the Jim Cameron of his milieu. But Mr. Hirsch cautioned that 3-D won't be an instant or easy success: "I think people like to take their glasses off when they watch adult movies, not put glasses on."
It was interesting to confirm with Mr. Hirsch that porn did not have much of an impact on the rollout of high-definition DVDs, either. This, he says, was in large measure because media giants like Blu-Ray inventor Sony made it difficult for porn peddlers to get Blu-Ray discs manufactured. (Apparently, Disney did not want its DVDs duplicated in the same factory as smuttier fare.) In fact, Blu-Ray only accounts for a small portion of Vivid's DVD sales today, and the argument might be made that HD could have been a bigger hit if it had let Mr. Hirsch and his peers lead the way.
But Mr. Hirsch says the bigger issue is that DVDs are "over" and distribution of video is moving largely to the Web and the television set, first via cable (video-on-demand, etc.) and soon by so-called smart TVs that connect directly to the Web. It's not so much that the porn industry is not the technological game-changer in gadgetry that it once was, but that the game has changed. Mr. Hirsch said that as much as 40 percent of the company's revenues come from subscription and video-on-demand sales on the Internet-and his company works hard to shut down pirate content when Vivid has a hot release, like, say, the headline-grabbing porn debut of Laurence Fishburne's daughter. They've also had to re-code their films so subscribers can reach them via Vivid's Web site on the iPad-Steve Jobs' portrayal of it as a porn-free device notwithstanding. And take heed big media: Mr. Hirsch said that the biggest stars in his business are also savvy cross-platform entrepreneurs who can make more money from operating their own Web sites and chatting live with their biggest fans than from making films. The biggest make as much as $1,500 an hour, based on $25 a minute for one-on-one video-cam chats. "Now wait for smart TVs where you're going to be able to get that experience right on your TV-and that's going to be massive."
Clarification: Two weeks ago I incorrectly reported that Rob Lowe and Tom Barrack met in Mendocino, Calif. I should have said Montecito-thanks, Penelope Bianchi, for writing in to set it straight.
rsiklos@observer.com