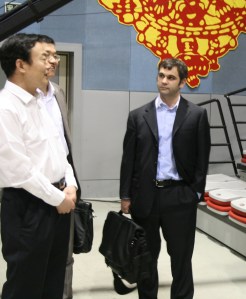 Last week, with a rollout that included an endorsement from George Lucas and a letter from Larry Ellison, Bill Gates and Warren Buffett announced that dozens of billionaires had pledged to give away half their fortunes. The list, which included corporate raider Ron Perelman, mortgage billionaires Marion and Herbert Sandler, Citigroup architect Sandy Weill and the ex-Enron trader John Arnold, started a new episode in the old conversation about big money and God's work. Can the really rich be really good? Should they have to be?
The morning after the announcement, a soft-spoken CEO named Kerry Propper was sitting in the glassy Financial District office of his investment banking outfit, Chardan Capital Markets. A statue of a drooping Dalí clock sat next to a mini-bottle of kosher Champagne. "I have kind of a double life," he said. In his business world, he acquired one of the largest mortgage foreclosure processors in the country earlier this year. "Is that the bad guy? You tell me," he said. "If someone is borrowing money and they don't pay, and the bank decides it's all right, then the system will break, O.K.?"
Mr. Propper spends a lot of time thinking about very different systems. Around this autumn, a documentary that he's spent six years working on with Edet Belzberg, whose Children Underground was nominated for an Oscar, will be finished. Produced by Mr. Propper, who paid for most of it, and who traveled with Ms. Belzberg to Chad and Ethiopia to film, Watchers of the Sky tells the stories of the lawyer who coined the word "genocide," Raphael Lemkin, and his successors around the world.
"Kerry's been incredible," said Ms. Belzberg, who won a MacArthur "genius" grant in 2005. "I don't see it as a dichotomy, I see it as a person doing work."
This year he acquired one of the largest mortgage foreclosure processors in the country. 'Is that the bad guy? You tell me,' he said.
As the film's editing moved along this year, Mr. Propper, 35, worked on finance projects like China Networks International Holdings, a TV advertising company he helped start. It's a joint venture with the Chinese State Administration for Radio, Film and Television, one of the main agencies responsible for government censorship, according to a Congressional report. "I believe, truly, that he's the kind of person moving forward with a very clear sense of his own morality, and trying to make choices that make sense," said Taylor Krauss, who filmed parts of the documentary, and who started the nonprofit Voices of Rwanda. "I think we all have our needs, and our vices, and our virtues."
MR. PROPPER GREW up with his mother and stepfather in Albany. Around 10th grade, his dad, a businessman in California, sent him Ayn Rand's The Fountainhead. "I couldn't put it down," he said. He started up a high-school investors club.
His father is Dr. Richard Propper, who runs a similarly named venture capital group, Chardan Capital, in California. Dr. Propper has fallen into trouble over the years. In the 1990s, he settled with the S.E.C. over disclosure problems, and in 2005 and 2007 he was sued for defrauding the Small Business Administration out of $32 million. He ended up with a fine. His son had to pay a small one, too.
"I take less risk," Mr. Propper said about his father. But the two have worked together on investments called special-purpose acquisition companies, or SPACs. They're pools of money, raised from investors who don't know what they're investing in, that are used to buy up companies. Mr. Propper was doing film work in Chad in 2007 when an article on one of their SPACs, a crop-seed business called Origin Agritech, was published in Barron's, along with a summary of some of his father's past problems. "He was very, very upset," said Ms. Belzberg, who was there. "He left the trip early."
This year, his special-purpose deal for the foreclosure firm, called DJSP Enterprises, became official. A long Mother Jones piece this month called "Foreclosure Barons" was really a profile of David J. Stern, the head of the company: Mr. Stern has, in addition to sexual harassment charges against him, and a class-action case that accuses his firm of racketeering and fraud, a jet-propelled yacht called Misunderstood outside of his 16,000-square-foot mansion, the article says. He bought up his neighbor last year for $8 million, to tear the house down for a tennis court. "When people say, 'Oh my God, the economy is bad,' I'm like, 'Oh my God, it's great,' he told bankers at a Laguna conference in March, where Social Distortion played a private concert.
How does Mr. Propper feel about acquiring DJSP, a giant of foreclosures? "It only processes them," he corrected, just before a colleague stuck his head in. Exactly like Mr. Propper, he was wearing a crisp white shirt tucked into black pants held up with a silver-buckled black belt.
Mr. Propper went over to him and they started talking about business. "Twenty-five million," the young bald man said, rapping his fingers against the glass. They stepped outside. "High yield," one voice said. "Small deal," said the other.
Mr. Propper came back into the room and sat down again. "O.K., so," he said, clearing his voice. "I believe in efficient markets," he explained. "An efficient market needs certain things, and the main thing, I've learned, over many years, is a rule of law."
But what about his Chinese work? "If you're looking at the media space alone, you have to understand China's goals from their perspective," he said. "You have to work within that system."
ABOUT SEVEN YEARS ago, he read a book by the Harvard scholar Samantha Power, A Problem From Hell. It spoke to him, especially the early chapter about Lemkin. He sent the book to John Carr, a friend since high school, who had moved out to California. He's a screenwriter, and a producer on The Hills and The City, though he once wrote press releases for his friend's dad: "He's always on the make, always on the move, always finding the angles," Mr. Carr said about Dr. Propper. He was speaking while driving down Rodeo Drive, where he was getting pants altered at Brooks Brothers, though he drives a 1994 Accord: "I'm kind of," he said, "a contrarian."
For a while, the two friends thought about writing a feature film about Lemkin, and even drafted a treatment. One day, Mr. Carr was talking to his father's cousin, the 60 Minutes producer David Gelber, who turned out to know someone who wanted to make a documentary about Lemkin. It was Ms. Belzberg, who was connected with Mr. Propper.
"We kind of hit it off," he said.
Mr. Propper said the film has been a struggle, but only relatively: "I live in Tribeca, I go out to dinner when I want, I fly whenever I want, wherever I want. That's not struggle."
Additional money for the film has come from places like George Soros' Open Society Institute and Sundance. On Thursday, Mr. Propper and Ms. Belzberg met with David Einhorn's foundation to see about raising a final bit of money. "The stories of the people we're following are really incredible," she said, "and I hope people find them inspiring."
In the meantime, Mr. Propper's business is evolving. Late last year, he and his father were sued by investors in a $1.25 million deal for a Chinese firm called Huiheng Medical. Its CFO said on a conference call that the company was "spending substantial amounts of money paying bribes to officials in control of the Chinese hospitals," the suit
says. According to records, it was settled this year. "It was a non-event," Mr. Propper said.
Still, he's moving away from China. For a while, he was interested in creating SPACs in Pakistan. "I kind of got close with a bunch of people," he said. He had to move on after Pervez Musharraf's fall. "I'm looking at other areas; I'm looking at Russia," he said. He might start with real estate there. "Africa is one place that I'm learning from the movie may be a real opportunity, five years from now," he said. "I just don't know when it's going to be ready."
mabelson@observer.com