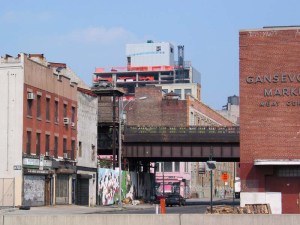 NYC's Wine & Food Festival is aiming this year to "Celebrate the charm of the Meatpacking District," which we're not quite sure it has, and promised that a new event to be held there over Columbus Day weekend will crown New York's "Sandwich King."
All told, 40 of the events in the annual chowdown's four-day extravaganza will be held in the Meatpacking area, all of these "set against its fashionable and historic charm." If this neighborhood plug sounds suspicious, it is: Many events are co-sponsored by real-estate broker the Corcoran Group.
The Sandwich King initiative, scheduled for Sunday October 10 and priced at a meaty $100, seems designed to clone the Festival's hugely successful Burger Bash, which anoints the pre-eminent burger for the year. But we hold out less hope for the sandwich showdown – it's hosted by the Food Network's Tyler Florence, and sponsored by Hellman's, so expect some cheese and mayo.